Thursday, July 30th, 2009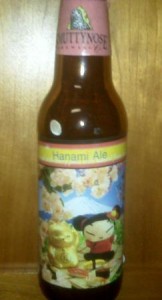 Hanami Ale   
Smuttynose Brewing Co., Portsmouth, NH
According to Smuttynose, this is an ale brewed with cherries and other natural flavors…O.K.
The color is a deep pinkish amber.
The aroma is sweet, cherry pie…Oh yeah!
First sip-CHERRIES!!!  This is not an ale with a subtle cherry flavor, this is all cherry with other subtle flavors falling in.  I can't tell if it's all sour cherry or cherry with a lemon finish.  There is a quality ale carrying these huge fruit flavors.  If you like fruit beers, especially cherry, then this beer is for you.   I happened to have lasagna with this beer and they complimented each other very well.  I imagine this beer could step in anywhere a red wine could go.  Hanami Ale would also go very well with dark chocolate, cherry cobbler, or chocolate covered cherries.
Saaalut!
Hanami Ale gets  9  bananas!