Notes from the Emerald Coast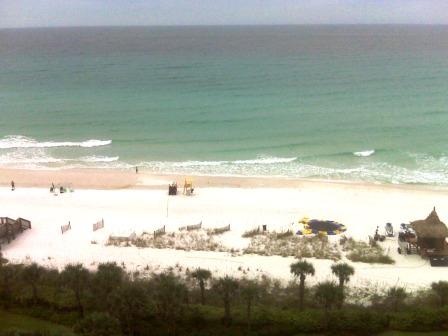 Things I'm learning on vacation…
It is impossible to describe the look on your daughter's face, as you take her out into the Ocean for the  very first time.  Sheer terror maybe?  Not really, but it was a wonderful experience to share with my daughter.
A boomerang that doesn't come back is…
— Just a stick
— Really good exercise
— A great lesson in determination
— A fun show for beach dwellers, I'm sure.
Next time I'm moaning and groaning about things not going my way, I will remember that the giant Jellyfish I elbowed, (while chasing a faulty boomerang), did not sting me.
Colds are much worse on vacation. It's one thing to tough it out through work while you're sick, but when it interferes with your one week of the year to relax and recharge, that stinks!  I should be thinking, "8 iron or 9 iron?"  Not, "Musinex or Sudafed?"
There's not much of a difference between applying sunscreen to my body and putting a rub on a hog for a barbecue.
Alaskan King Crab Legs aren't any fresher in Destin, Florida, than they are in Atlanta, Georgia. 
Just because a golf course is beautiful and more expensive than where I normally play, it doesn't mean I hit the ball any better.  I just get into more exotic types of trouble.
What's bad in the real world, is still bad here…I just don't care as much.
Just because Florida Beer Laws are better than Georgia Beer Laws, doesn't mean that most restaurants down here have a good selection.
McGuire's Irish Pub  is everything I thought it'd be and more!  How often do you see all these variables come together in one place…
–Great atmosphere-Dimly lit, multi-leveled, cavernous, proudly Irish pub and restaurant.  A perfect mix of a tourist attraction and a huge local hangout.
–Handmade delicious beer, open fermented on the premises.  A collection of Irish and American styles.  (I would have said English too, but it's nothing to get shot about.)  Also great wine and mixed drinks, if you're into those lesser beverages.
–Great food!  Huge appetizers, reasonable prices, great authentic Irish dishes, wonderful steaks, delicious Irish Black Honey Bread…You will not leave hungry! 
I'm going back, before I leave.  Make sure you bring a dollar bill and a sharpie, and don't forget:  After all those delicious brews, you better stop by the restroom before you leave.
(Edit-I went back today to show my father-in-law how cool McGuire's was.  The brewers, Gary and Tom, were hanging out at the bar.  I introduced myself and told them I was a homebrewer and they went off.  Next thing I knew, we were on an impromtu tour, and Tom was bringing out 'special' beers for us to sample.  He said he was going to get us something 'really strange' to taste, when I remembered my 2 year old daughter and my father-in-law were waiting patiently for me, so I regretfully made my exit.  If you go to Destin or Pensacola, Go to McGuire's!")
When there is no tropical storm banging into it, the Emerald Coast  is a wonderful place to be.  Destin does it right, but it seems like they are hurting.  I guess in tough times, vacations aren't always feasible.  If you can break loose and get down here, it's a great place to spend your money.
the attachments to this post: