2 Turtle Doves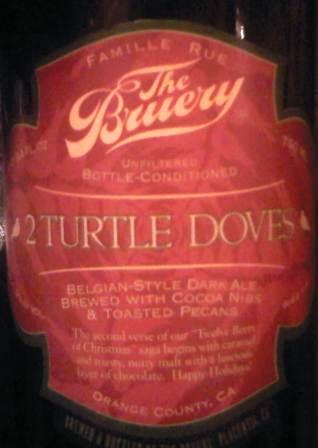 2 Turtle Doves
12% ABV
The Bruery


Placentia, CA
Dark chocolate brown with a creamy tan head.
The aroma screams turtle, more than turtle doves; chocolatey, nutty,
caramel-toffee malt and King Bee tobacco.
All right, this beer is special by itself, but do NOT open this bottle without some type of dark chocolate to pair with it.  I had it with a chocolate lava cake, from Domino's.  Shut up!  Unless you've had one of these cakes, don't judge!  It is a hard, crunchy brownie, dusted with powdered sugar, and filled with a dark chocolate filling.  For what it is, and where it comes from, it is amazing…Seriously.  I have had the cake with two chocolate loving beers, and it pairs perfectly.  Anyway, I digress.  This beer definitely lives up to the promises given by the aroma.  There's chocolate, nuts, pepper, fig, caramel, dried tobacco…You name it.  Everything you would expect from a beer of this size and billing.  But make sure you have some delicious dark chocolate to go along with it.  If you don't, call Domino's!
Saaalut!!!
9.4 Bananas
the attachments to this post: