EHLO GUBNA!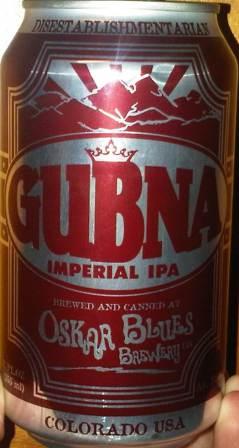 GUBNA Imperial IPA
10% ABV
Oskar Blues Brewery
Longmont, CO

Golden Copper with white foam.
Earthy, woody-vegetable aroma.
The East Coast / West Coast feud is over!  This beer is extremely well balanced and at the Toppermost of the Hoppermost.  This is one of the best Imperial IPA's I have ever had.  Right up there with DFH 90 Minute or (insert any great IIPA here).  This beer is way hoppy throughout with plenty of malt backbone to carry it through.  There is a strong bitter hop finish to remind you where this beer was born.  At 10% ABV you should only have one or two…I had three.  I hesitated at the price, $14.99 for 4, but this masterpiece is well worth it! 
Saaalut!!!
9.98 Bananas!

the attachments to this post: