Friday, May 21st, 2010
Yea!  It is finally here!  I have been waiting all week for this day to arrive, and amazingly, it's finally here…Trash Pick Up Day!!!
I'm sure you're wondering why anyone would get this excited about their trash being picked up.  Please allow me to explain.
   It all started last Saturday night.  We actually had a weekend with nothing major going on, so we just vedged around the house, all day long on Saturday, (I made that spelling up, vedge is not a real word, but it should be).  Around 6 PM, my mind started craving adventure. The first things that came to mind were crawfish and exotic beer:  Luckily, these were both available in the same shopping center.  After selecting my perfect mix-pack of beer, I drove the 68 yards to the local crawfish provider.  Unfortunately, their sign said they closed at 5.  It was almost 7.  As I was getting ready to back out of my parking space, I noticed one of the proprietors of the Ragin' Cajun waving me in.  I put the car in park, jumped out and asked if they had any crawfish left.
   "Just 4 or 5 pounds.", he responded.
  "Cool, I just wanted a pound or so." I replied.
   "You'll need more than a pound!", the R.C. recommended, to which I said, "Okay, give me 2."
   He came out of the cooler with a large bag and said, "Here's 5 pounds, we'll only charge you for two."
   Cha-Ching!  I thanked them and headed home, dreaming of all the things I could do with 5 pounds of boiled crawdads.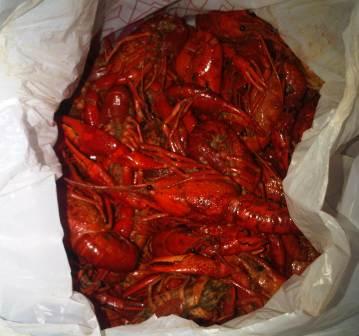 I ate about 2 pounds of crawfish that night and decided to make Etouffee the next day.
  Sunday, I found a recipe that sounded really good, and set out to acquire all my ingredients.  I got all my fixins, cut up the vegetables, shelled all the crawfish, and started cooking.  I guarrranteee that be da' best ting I evah done ehht!!!  Seriously, this was the best dish I have ever cooked, and remarkably easy!  I'll post the recipe I used at the end of the post, (minus the few changes I made, which I can't tell you about).  My wife even raved about this dish, which is rare for her, so I know it was good.  Of course you know something is going to be good when it says, "Start by melting one STICK of butter."
   So, that's where the Crawfish Lovefest ends.  For those of you who have eaten crawfish before, you know that there is a LOT of waste left over, after you shell them, (pretty much the whole animal, minus the tail meat).  So now the problem is, what to do with the 'waste'.  I knew putting them in my trash can in the garage…for a week…towards the end of May…in Georgia, was probably not the best idea,  but hey!  I double bagged them!…How bad could it be?
DAY 1:  Whoa!  I cannot believe they smell already!  Well, it can't get any worse than that.  My wife probably won't even notice.
DAY 2:  THE HORROR!!!  My trash can smells like a Thousand Dead Rats!!!
DAY 3:  You can smell it in the house!  You can smell it in the car as you pull into the garage!
DAY 4:  Holding my nose, I sprint through the garage, dive and roll under the closing garage door, and narrowly make it out alive.  After regaining my footing, and my sense of smell, I see deep scratches all over the outside of our garage door.  I quickly spin around and see a bunch of vultures, standing around in a circle, in my neighbors'  backyard.  The vultures keep looking up at me, and then quickly look away when they see I'm looking back at them.  As I run over to them, I notice they are drawing something in the dirt.
   "What's going on here?!", I shout as I get closer.
   None of the bald birds budge, but the leader looks up and says, "Move along kid, nothing to see here.  Besides, we'd be doing you a favor.  Now get outta here, before we start throwing up on you."
DAY 5:  TRASH DAY:  This will all be over soon.  It's impossible to hold in my sighs of relief as I try to hold my breath while rolling the can out to the end of my driveway.
You could imagine my disappointment that afternoon, when I got home and saw the trash can hadn't moved!!!  Seems my wife, who was out of town, and very busy, (LU), had forgotten to pay the bill.  Luckily, after some serious discussions, the garbage company agreed to send a truck by to pick up our trash.
   Please don't hold this against the crawdads; it was all my fault.  And the vultures never actually said anything, about throwing up on me.
Here's the recipe: http://www.gumbopages.com/food/seafood/etouffee-perry.html