Thursday, August 12th, 2010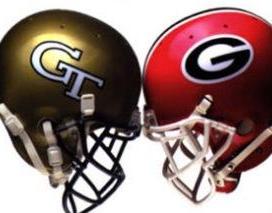 I just heard that another useless preseason poll, (please refer to 2008 preseason polls for proof), has ranked the Smellow Jackets ahead of the Mighty Bulldawgs.  Really???  How many of these 'qualified' voters would actually bet money that Georgia Tech will finish the season ranked higher than UGA?  And from that small percentage of voters, how many would put their money on Tech in the Georgia game at Sanford Stadium?  Obviously, if they are that much better than us, then they should have no issues dispensing with the poor, lowly Bulldawgs.  Right?
   Hey, I'm not knocking Tech.  They were triumphant over the mighty ACC last year and represented their conference in the Orange Bowl…Well, their name was on the scoreboard, but I'm not sure they actually showed up for the game.  I kind of liked Paul Johnson, when he first arrived at Tech, because he said what he thought.  But that whole Georgia Tech thing is starting to rub off on him, and the inferiority complex is starting to affect his way of thinking.  I hope he sets 'beating Georgia' as one of his 'team goals' this year.  I guess he'll tell us after the game.
GO DAWGS!!!