Terrapin Hopzilla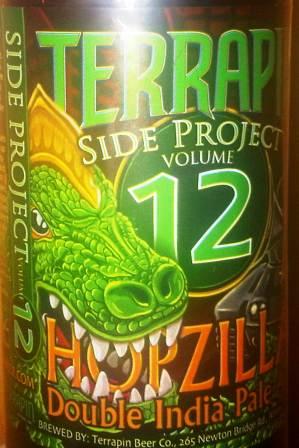 Hopzilla Imperial IPA-Side Project v.12
10.8% ABV
Terrapin Brewing Co.
Athens, GA (AKA God's Country)

Color:  Iridescent, golden hue with crisp white foam.
Aroma:  Candied Pine sap.
How dare you question Terrapin's ability to over-hop a beer!  At 110 IBU's, the hoppy side of me is very happy, but at 10.8% ABV the malty side of me is happy for the crisp, malty support.  Nice, earthy bitter finish.  I think Terrapin took some heat from hopheads for Hopsecutioner, which I love, not being hoppy enough.  This behemoth should shut them up.  I bet there are thousands of Japanese running from this beer already!  This beer is up there with Lagunitas Hop Stoopid, Oskar Blues Gubna, and Harpoon Leviathan:  All super-hopped beers that seem really bitter at first, but halfway through your first one, you realize, thisisreallygoodbeer!!!
I appear to be losing the ability to type but, moral of the story:
 A. This is the lightest, coolest color, (seriously, the color is like a hologram! Freaky!), of any Imperial IPA I've ever had!
B.  There is plenty of hop goodness and complexity in this brew.
 C. This is really, really good beer, and I like you.  No, seriously,  I don't say it enough.  You know<Hiccup!> I mean, you GET me.  YouknowwhatImean???
"Whoa…No!  I think I'm gonna throw…Throw up Hopzilla! Woo-oooo-ah"
(Sang in the style of Blue Oyster Cult's Godzilla, in case you didn't get it.)
Just kidding, I would never waste a beer this delicious!
Seriously though, I only have one swallow left and I don't want this beer to end.  Oh well, here goes…
Saaalut!!!
9.75 Bananas
the attachments to this post: