A Dawg Dish Best Served Cold.
Reason #1 why UGA wins it all this year: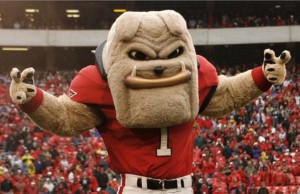 Despite Coach Richt's devout Christianity, he is surprisingly good at revenge games. Mark Richt is an Old Testament 10-3 in revenge games, since 2010.
Our team is notorious for lacking motivation in at least one game a year, but they always seem to get up when playing a team they lost to the previous year. That revenge factor has also shown up against teams/coaches that have 'disrespected' our team, eg. The Belk Bowl last year against Todd Grantham, or the Vanderbilt game a few years back (also involving Grantham). As luck would have it, the Dawgs' schedule is loaded with revenge games in 2015.
1. South Carolina – In 2014, this was one of those games, where we were not as motivated as we should have been. The Gamecocks had their heads chopped off in the season opener against A&M, so Dawg fans (and players as well, apparently) were counting our chickens, before they hatched, going into the South Carolina game. We played badly and still had a chance to win, but thanks to a bad spot and a bad play call, we came out with a loss.
Richt knows we should have won this game, and he will prove it September the 19th. These games are always close, and SC has done very well in the past few years… but not this year. UGA 41-13.
2. Alabama – In the last two match-ups against the Tide, they ruined our Black Out party and took our National Championship. Not to mention, their Offensive Coordinator, Lil'Laney is an embarrassing 1-0, against the Dawgs. There is revenge in folds, available in this game, but it's still going to be a tough one. UGA 31-27
3. Tennessee has played us dangerously close, the last few years, and according to many prognosticators, this is their year. That's right, some of the CFB analysts are actually picking UT to beat the Dawgs and go on to win the SEC East, including the great Kirk Herbstreit. We owe Herbie a thing or two, since he talked us out of the BCS championship, back in '07!
And how dare the Vols, come in here and try to take what's ours! This is a preemptive revenge game, for them (and the analysts) even thinking they're in our league! UGA 38-24.
4. Missoura – Even though we beat them down 34-0 last year, they pulled off an impressive winning streak at the end of the season to hold on, and win the SEC east. I watched these Tigers beat Texas A&M, UT and Arkansas, even though everybody was picking them to lose at least one of these games. Every Mizzou win made the Dawg Nation feel the pain from the Florida loss again, and again, and again.
You will not back door the SEC East again this season, Missouri. UGA 41-20
5. Florida – In 2014, Florida was a derailed train. They lost to Missouri 42-13. We beat Missouri 34-0. So by mine, and apparently the players' and coaches' logic, we were going to beat the stupid, worthless Gators by around 63 points. With that kind of advantage, all we had to do was show up in Jacksonville, and take turns kicking the downed Gators. Well, unfortunately, we missed the bus, and FU played their best game of the season. They took what was ours and tore it into little tiny pieces, and threw it in our face. Florida should be hurting again this year, and we need to go into the Cocktail Party and put them down! UGA 48-10.
6. Auburn – Okay, I know we beat Auburn last year, but guess what?
The Plainsmen went and hired themselves a brand new Defensive Coordinator! That's right: The excommunicated Bulldog, turned Gator, turned out, is now on the payroll of Auburn and Florida! At least he's using that fine education he received at the University of Georgia! So congratulations War Tigers! Not only did you bring in a fine DC, but you also added a heavy helping of revenge, from Richt's Bulldawgs! UGA 41-28
7. Georgia Tech – Oh Yellow Jackets, you pesky little annoying bugs, why do you keep doing this to yourselves? Okay, so yeah, you beat a UGA team that had they're whole season ruined (again), the day before the GA/GT game, so maybe we weren't as motivated as we should have been. Haven't you figured out what happens the year after you beat us? The Dawgs won't be satisfied with merely winning the state championship! They are going to smash the yellow jackets into the ground, like they deserve. UGA 43-13
So, if Georgia wins the games they're supposed to win, and Richt's revenge factor holds true, we could have a special season ahead of us. And if we meet Urbie Meyer in the play off? Oh, there's plenty of revenge left for him!
Go Dawgs!!!
the attachments to this post: